Grand Rapids Party Bus delivers the overall finest experience in luxury party bus, limo bus, stretch limousine, and executive transportation services in the entire Western coast of this great state of Michigan! We've amassed an unbelievable and diverse array of the most exquisite luxury vehicles for you and your party to enjoy. For your convenience, we've included our most popular options below! We invite you to scroll down this page to see what we have to offer you for your big Grand Rapids Limousine transportation needs.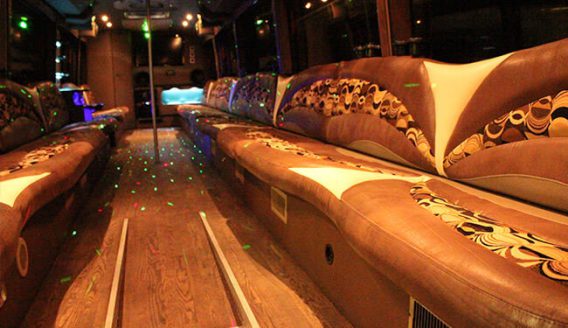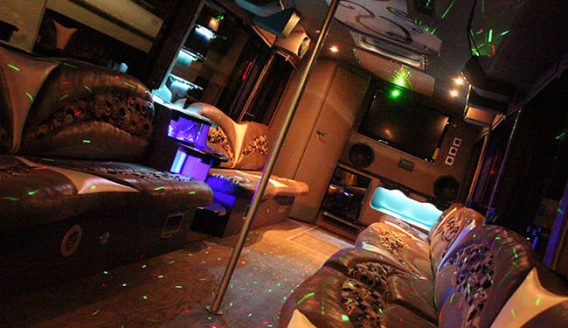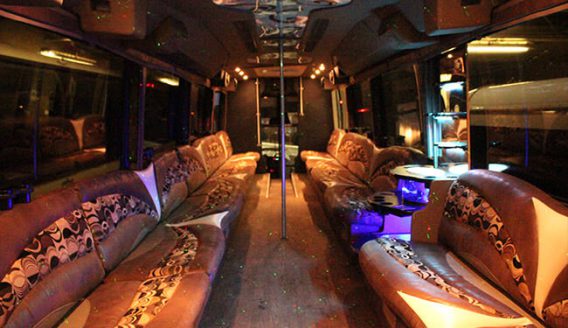 40 Passenger Party Bus (Non Smoking)
For your big events where you don't want anyone to miss any of the action, this party bus is the perfect choice for you! Able to accommodate a massive amount of passengers, no one has to sit on the sidelines as everyone comfortably fits inside. You'll find this gorgeous party bus equipped with the following amenities...
Amazing audio system with subs
Mini-bar tops with embedded coolers
Big screen televisions
CD/DVD/IPod player
Dancing stage with stripper pole
Color altering walls, ceiling, steps, and coolers
Hardwood floors
Leather seats for 40 Passengers
Tinted glass
Embedded beverage holders
---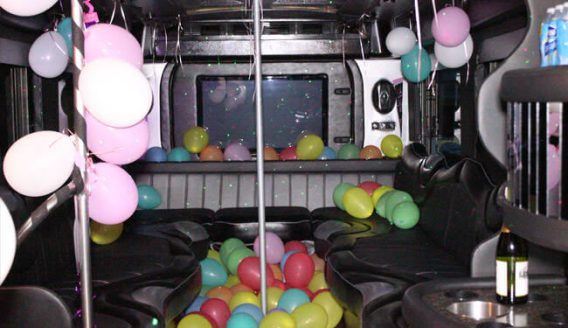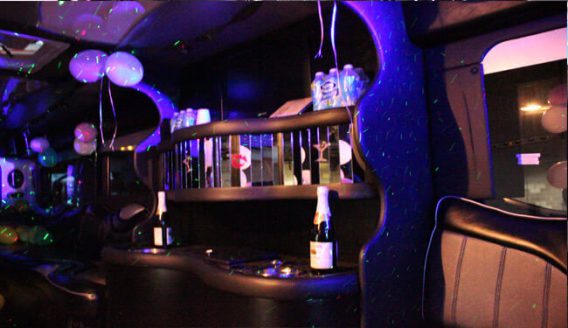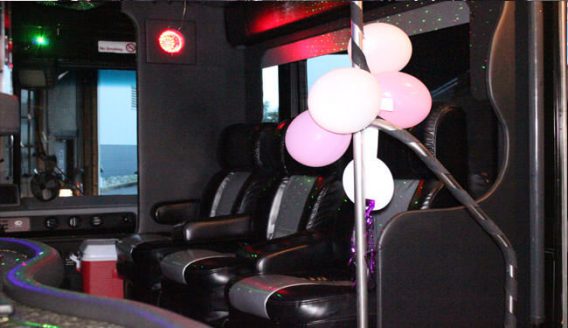 22 Passenger Party Bus (Non Smoking)
Don't miss out on anything, and rent one of our most popular and luxurious party bus options for the greater Grand Rapids Michigan area! This 22 passenger bus has everything anyone could want for any event known to man... and possibly more. If you can invent it, we can accommodate it. Inside you'll find this beauty equipped with the following...
Amazing audio system
Two granite mini-bars with Embedded cooler and cup dispenser
Stripper pole
Plug in for mp3 player/iPod
Color altering LED illuminations
Wood floors
Leather seats for 22 Passengers
Tinted glass
Embedded beverage holders
---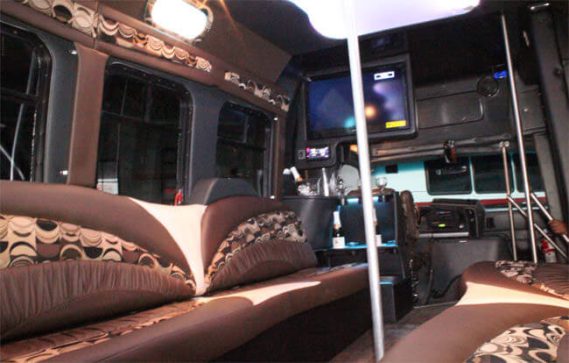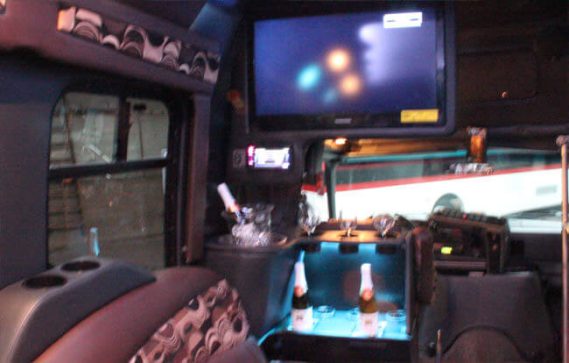 12 Passenger Party Bus (Non Smoking)
Sometimes, when you don't need massive room for your people but you still want the ultimate in luxury, your first party bus choice in Grand Rapids is this gorgeous 12 passenger limo bus from Grand Rapids Party Bus. Once inside you'll be treated to the following niceties...
Audiophile stereo system with subs
Mini-bar tops with built-in coolers
HD televisions
CD player with DVD/IPod player
Dancing pole
Mood lit walls, ceiling, steps, and coolers
Luxurious hardwood floors
Leather seats for up to 12 passengers
Tinted windows
Cup holders throughout
---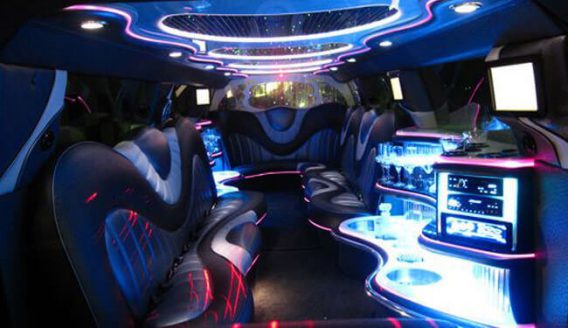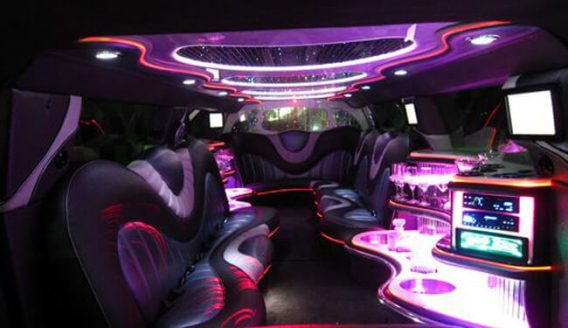 Audi Q7 Stretch Limousine (Non Smoking)
The ultimate in European styling and unbelievable interior design and accommodation! This gorgeous Audi Q7 based super stretch limousine is one of the hottest vehicles on the streets in and around Grand Rapids...
Enjoy the best stereo money can buy
Bring your favorite beverages to stock our wet bar and coolers
Entertain your group with our HD Television and Blue Ray/DVD player
Hook your iPod or MP3 player to our head unit, or bring your stash of favorite CD's
Bask in the glow of the coolest mood lighting system in town
Enjoy the comfort of our luxurious deep pile carpeting
Sink into the supple leather seating
Enjoy privacy behind our dark tinted glass
Don't spill a drop! Cup holders throughout!
---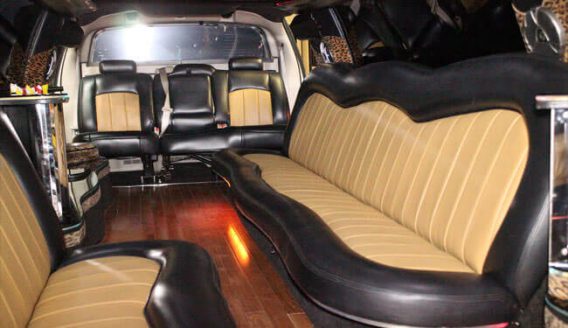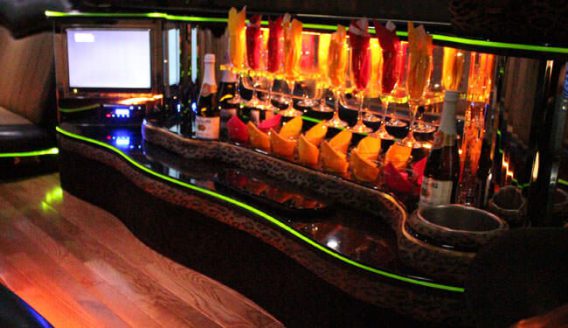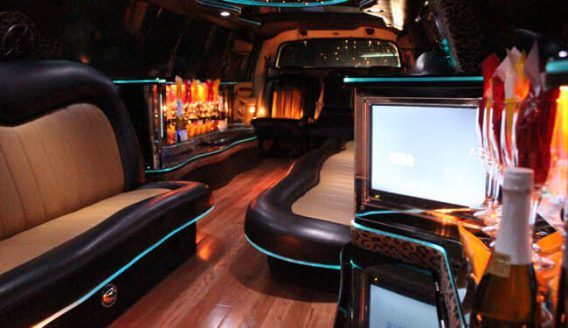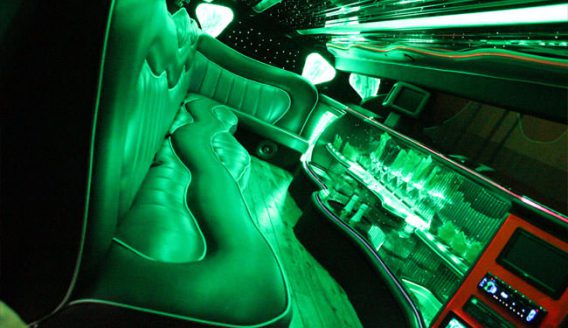 Cadillac Escalade Stretch Limousine (Non Smoking)
Unbelievable luxury! Impeccable style! Sometimes there's just nothing better than a classy and en-vogue Cadillac to fill the needs of your luxury transportation desires. This gorgeous Escalade has been custom crafted in a style that is as unique as our city is great! Once you slide down these bench seats, you can settle in to enjoy...
An audio system that will blow your mind
A full mini bar replete with champaign flutes and coolers waiting to be stocked with your favorite drinks
HD Video monitor
Blue Ray or DVD player
CD audio unit with iPod/MP3 hookups
Tastefully accommodating fiber optic mood lighting
Classy hardwood flooring
High grade leather seating
Tinted windows
Stainless steel cup-holders
---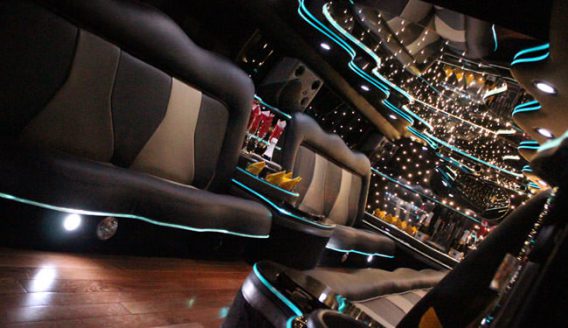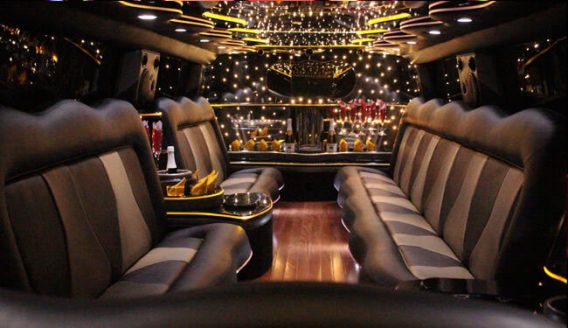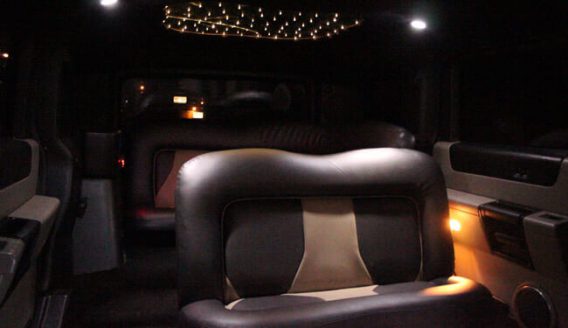 Hummer H2 Stretch Limousine (Non Smoking)
When we first thought of an idea for a new and exciting limousine style, we came up with this gorgeous H2 Hummer limousine. These rugged and stylish SUV's have become a very popular choice for limousine craftsmen, so we decided to let our limo manufacturer whip one up for us. You're simply not going to find a finer and more luxurious interior design than right here. We'd say that our custom craftsmen sure outdid ourselves this time...
The best sounds in town
Wet bar and coolers for your drinks
HD Video
DVD/Blu Ray players
CD player that adapts to any iPod/MP3 device
UNBELIEVABLE mirrored ceiling with classy mood lighting
Deluxe flooring
The finest leather seating
Tinted windows
Cup holders for NO spills
---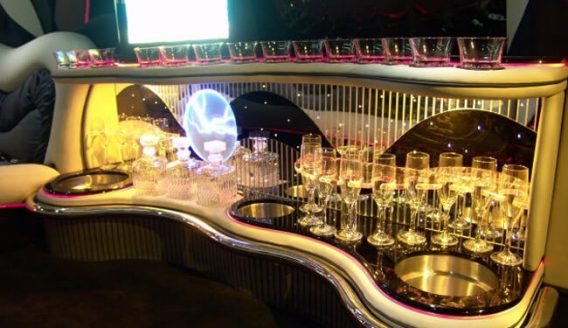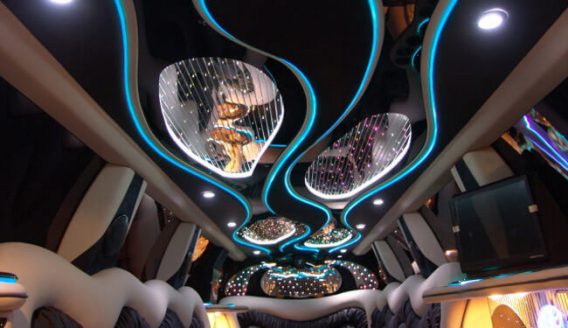 Lincoln Navigator Stretch Limousine (Non Smoking)
Pure American luxury! This Lincoln Navigator stretched limousine is one of the many gems in our fleet, we're proud of this one in particular. Our customers really agree, as this baby gets booked non stop! Don't miss out on your chance to spend a stupendous evening in one of the area's finest and most sought after luxury limos...
Stereo system that will impress the most discerning audiophile
Luxurious wet bar with shot glasses and champagne flutes
High definition televisions
DVD/Blue Ray player
CD player with iPod/MP3 plugins
Color changing mood lights
Luxurious flooring
High grade leather seating
Tinted glass
Convenient cup holders
---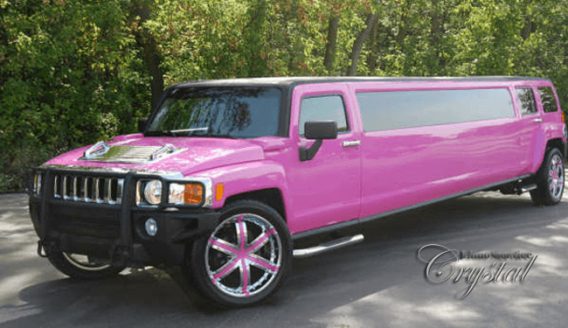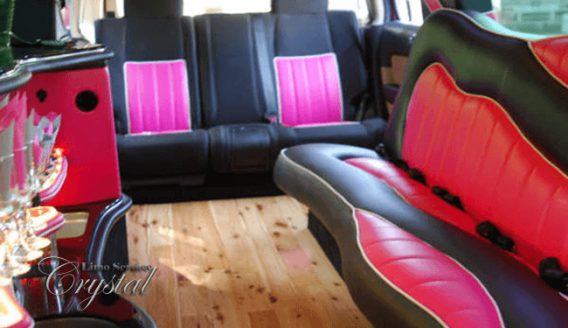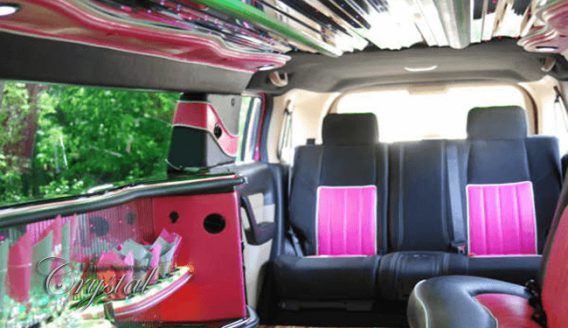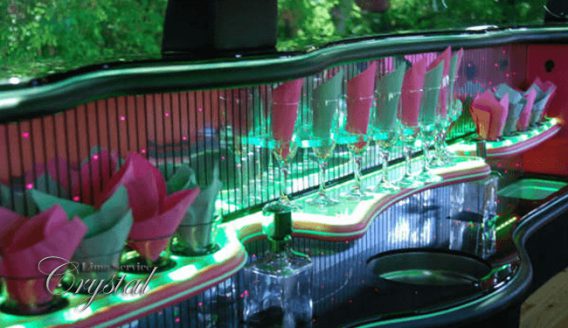 Pink Hummer H2 Stretch Limousine (Non Smoking)
You're in for a head turning treat when you take your party out on the streets in this saucy bright pink number. We find that we get a TON of bachelorette parties reserving this gorgeous limo, as well as a good amount of breast cancer awareness events, quincenearas, and even sweet sixteen birthday celebrations. Whatever your reason may be for wanting something sassy, you can count on this limousine to deliver the zest as well as the full featured luxury you expect...
Booming audio system
Bar areas with built in coolers (keeps the party going!)
HD television monitors
Blue Ray/DVD player for your entertainment
Spacious interior
Mood lighting that changes hue
Deluxe hardwood flooring
Hot pink and black two tone leather seating
Dark limo tinted windows, keep your party private
Cup holders throughout the vehicle
---

Lincoln Town Car Stretch Limousine (Non Smoking)
Sometimes there's just no replacing the tried and true luxury of a gorgeous stretched Lincoln Town Car. It's for this precise reason we keep our Town Car limos up to date and modern in all facets of their operational and cosmetic appearances. If you've got an event with a smaller group of people to move around town, this limousine is commonly our customer's first choice.
---

Executive Sedan Services (Non Smoking)
If you would like something special in your transportation needs, but don't have multiple people to get around town... You just might be interested in our luxury executive sedan services! Like our limousines and party buses, you'll be getting a highly professional chauffeur to take you wherever you need to go, and get you there in style... and perhaps most importantly, comfort.
---

Executive SUV Services (Non Smoking)
In situations where luxury is still preferable, but space is required... You'll definitely want to consider our chauffeured executive luxury SUV services. These vehicles are equipped to the hilt, and are the perfect solution if you need to be transported to and from the airport, or if you have a few clients you need to take out on the town. Give us a call to find out about our premium executive services today!
---

Corporate Van Services (Non Smoking)
And then sometimes, you just need to get there. If you're looking for highly affordable and convenient group transportation, you're not going to find a finer option than with Grand Rapids Party Bus' corporate van services. Of course, you don't need to be a corporation in order to take advantage of this great service, you just need to have a requirement for chaffered transportation to anywhere, and the means to get in touch with us!
---